School Visits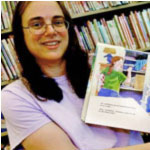 I love talking to readers and writers of all ages.  In the last few years, I've enjoyed discussing BLACK RADISHES to 5th graders and middle-school book clubs, reading my picture book and poems to toddlers, and speaking to adults about writing historical fiction.  I have lots of conference speaking experience and also experience as a keynote speaker.
Presentation topics include: the process of writing—from idea to draft to published book, writing your family stories (can be keyed to children or adults), how to get started as a children's writer, writing historical fiction, and more.
If you are interested in arranging a visit to your school or group, please send an email with the heading "Visits" to me at smeyer[at]wellesley.edu and we'll work out the details!
Free Local School Visits
If your school is within the greater Boston area and if it is either accessible by public transportation or within about an hour's drive, you are eligible to be considered for a free author's visit.  I will do up to five free visits per academic year.  I am now booking for 2012-2013 and 2013-2014.  To qualify for a free visit, you must adopt BLACK RADISHES (recommended for 5th-8th graders) for classroom use and purchase enough copies so that each child involved has one.  Random House will sell in bulk for school visits at a 40% discount with free shipping.  The children should have read BLACK RADISHES before my visit, and the copies can be either given to the children or retained by the school for use in future years.
"Thank you so much for being with the boys' book group today.  It was such a treat for them (and the moms!) to meet a real, live published author!  You have such a knack with the kids–they've never shown as long an attention span for the book group as they did today!  We are all so happy for your success with BLACK RADISHES and we can't wait for the sequel!  Please write quickly so we can read more soon!"
Jane M., Sherborn Boys' Book Group
"You were wonderful with the girls today—when you unrolled that long list of changes they were just awestruck, and Becca is still talking about how persistent a person has to be in order to get a book published.  I guarantee you at least 14 readers of the sequel."

Ann V., Brookline Mother-Daughter Book Club
"A belated thanks for coming to the BBG.  They really loved the book, and I think that is a testament to your ability to speak convincingly as an eleven-year-old boy."

Susan G., Sherborn Boys' Book Group
"MATTHEW AND TALL RABBIT GO CAMPING was already a big hit at the library, but Susan's reading of it was especially fun.  The children and parents loved the way Susan made the story come alive for them.  We'd welcome her back for story hour at any time."

Diane E. Wallace, Director, Bacon Free Library