School Visits
I love talking to readers and writers of all ages, and, as an English professor at Wellesley College and a former teacher of middle-school students, I'm very experienced.  I especially enjoy visiting Title 1 schools.
Can I reach your students?  Yes!  Scroll down to see the quotes from teachers below.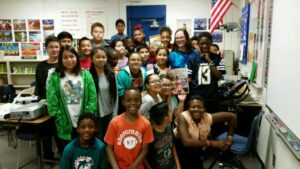 Presentation topics include:
SKATING WITH THE STATUE OF LIBERTY and Immigration, World War II, and the Early Civil Rights Movement
NEW SHOES, Segregation, the 1950s-1960's Civil Rights Movement, and Entrepreneurship
BLACK RADISHES, France, and Jews during World War II
The Process of Writing: From Idea to Draft to Published Book
Writing Family Stories (can be keyed to children or adults)
Picture Book Story Reading and Discussion (with K/1 readers)
To arrange a visit to your school or group, email me at smeyer[at]wellesley.edu and we'll work out the details.  I'm happy to travel and have recently visited students in Nevada, Maine, Illinois, and the UK, as well as Massachusetts.
Skype Visits:
I love meeting students anywhere by Skype visit!  It is an easy and affordable way for your students to interact with an author.  My usual fee is $120.
Free Local School Visits in Boston/Cambridge:
If your public or charter school is underfunded and is in Boston or Cambridge and accessible by public transportation, I will try to come for a free visit if you cannot access funds.  The same is true for Title 1 schools in other areas that I happen to be visiting.
What Audiences Say:
"Our students adored you!"
Margaret C, 6th grade ELA teacher, Title 1 school
"I have never seen middle-school students as moved by a book as they were by New Shoes. In an inner-city school, all our children have experienced poverty and discrimination. . . . They felt Ella Mae's humiliation and experienced pride when she came up with a solution to prejudice and discrimination."
Ann M., Library Media Specialist, Title 1 school, Las Vegas, NV
"The students walked out of the library saying how "cool" that was. You were definitely a big hit. One of our teachers commented that it was the best Skype she has seen. It was so nice how you interacted with the students as a group and made it engaging. I'm sure it helped that every student in the audience had read and studied your book, too."
Lynne J., Librarian, Wisconsin
"Thank you so much for being with the boys' book group today. It was such a treat for them (and the moms!) to meet a real, live published author! You have such a knack with the kids–they've never shown as long an attention span for the book group as they did today!"
Jane M., Sherborn MA
"You were wonderful with the girls today—when you unrolled that long list of changes they were just awestruck, and Becca is still talking about how persistent a person has to be in order to get a book published.  I guarantee you at least 14 readers of the sequel."

Ann V., Brookline MA
"They really loved the book, and I think that is a testament to your ability to speak convincingly as an eleven-year-old boy."

Susan G., Sherborn Boys' Book Group