For Young Readers of Skating with the Statue of Liberty: Mr. Quong's Cat
Gustave first notices Mr. Quong's Hand Laundry because there is a cat in the window, lying on a red and gold blanket in a patch of sunshine.  He taps on the window to say hello to her.
Later, when he goes in to examine the second-hand pants, the cat, Molly, comes over to greet him.  She jumps up onto the counter and sits in the middle of Mr. Quong's notebook when she wants him to pay attention and feed her.
Would you like to guess where I got the idea for this cat?
Here's a secret: our cat, who used to belong to my mom, is named Molly!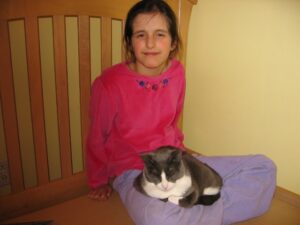 And when she wants to be fed, what do you think she likes to do?
She tries all of these tricks: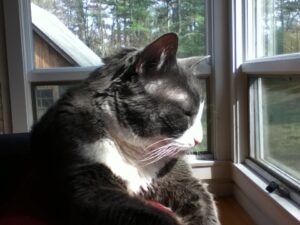 She sits in front of the fridge, in the middle of the kitchen.
She jumps up onto the table and sits on the book I'm reading.
She sits on my computer keyboard.
If people still aren't paying attention to her, she finds an ankle and gives someone a little nip.
It can get a bit annoying!  But I guess I'd be annoying too if I were hungry and needed attention.
I thought Molly deserved to be in a book.  So now she is!  Here she is, posing with the finished, published novel!
What funny things does your pet do?  Would you like to try writing a story where your pet appears?  And if you don't have a pet, remember–this is fiction!  You can invent one!